Click here or on the screenshot to download the
MACWORLD EXPO 2000 New York
interactive pocket show guide
sponsored by Macworld Magazine
it's beamable, illustrated, information-rich and interactive.
It's a Pocketgram(TM)!
Beam it to your friends and colleagues.

Requires only 64K
updated May 12, 2000
It puts
exhibitors
booths
workshops &amp times
session topics and schedule
track and
conference info
in the palm of your hand. It's highly organized and completely searchable by track or by day!
Everything you need is just a tap or two away.
Plus the info you can save $100 if you take action by June 19th!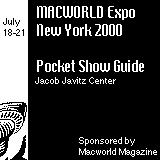 Click here to download
or click on the screenshot above to download the
Macworld Expo Pocket Show Guide
powered by OnTap® Technology
or just send
e-mail to: reply-with-macworld@palmtoppublishing.com
and a copy with be e-mailed to you within minutes!
---
Click here for the Palmtop Publishing web page
and the main Macworld Expo web page
---
Recently featured in PC Week, Flying, AOPA Flight Training, and this month in the April editions of Technology Meetings and Meridian Magazines, Palmtop Publishing is the leading publisher of engaging Palm OS(TM) pocket guides, catalogs and interactive quizzes for trade shows, special events, education, business, professional reference and learning tools. Innovations include the renowned Deluxe Super Bowl Survival Kit, the Pocketgram Personalized Palm OS Valentine Delivery Service and these innovative web site, Palm software, and service combinations: pocketchef.com, pocketportfolio.com, pocketgram.com, and award-winning OnTap® Technology.
We are proud to be the internet and web site sponsor of Seattle's Foundation for Russian Orphans.
---
Palmtop Publishing Home · About Palmtop Publishing · Custom Software & Consulting Services · Capabilities · Purchase Retail Software · Resellers · Site Licenses · Special Offers · Demos, Brochureware & CharityWare · Inquiries
For questions or for more information, please send e-mail to the Palmtop Publishing Webmaster at webmaster@palmtoppublishing.com.

© Copyright 2000 Palmtop Publishing


2111 46th Ave., SW
Seattle, WA 98116
Tel: 206-923-0901
Fax: 206-923-0902