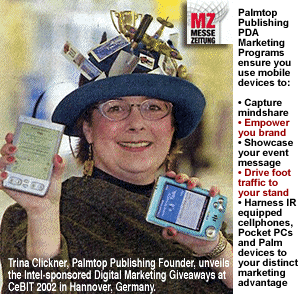 As featured in the
CeBIT Messe Zeitung
14 March 2002, Pocketgram Digital Marketing Giveaways(TM) are branded information novelties.
Since March 1997 when we launched the very first PDA Showguide at CeBIT '97 in Deutsch and English, Palmtop Publishing has been delivering first class, custom branded marketing communications solutions that turn heads while you harness handhelds to your distinct marketing and brand advantage.
Digital Marketing Giveaways let you:
Drive visitors to your web site or to your stand
Attract a crowd of of visitors to your stand and drive traffic to partner stands
Actively engage people while they visit your stand
Connect and establish new relationships with ease on the spot
Deliver your long-lasting, info-rich novelty directly into another handheld where it is most likely to be reviewed again
Make a personal, long-lasting impression with a smile.
I personally invite you to share the CeBIT-centric software on this web page freely with your colleagues surrounding CeBIT Hannover 2003. Take a moment to create your own CeBIT-focused stand announcement, invitation, giveaway, or greeting card that you can deliver yourself - just choose your cover image and fill out the web form.
If you need more customization such as diagrams, maps, logos and splash screens, e-mail your requests to trina@palmtoppublishing.com for an estimate. We also provide
Quick and simple on the spot beaming stations (1.250 euros)
Customized PDA business agendas and invitations (starting at 1.750 euros)
Innovative web/PDA/Infrared kiosks (like the one you're using now)
Custom PDA Marketing Programs to meet most any budget (well, almost any budget)
Harness the power of handheld computers to benefit your brand and you gain a distinct marketing and mindshare advantage!
To set up a CeBIT meeting or to implement now, call Trina Clickner at 1-727-734-2026. We'll have you looking good without delay - you are the best of hands with the Palmtop Publishing experts.
See you in Hannover 12-19 March at CeBIT!
Trina Clickner
Tel: +1-727-734-2026 Fax: +1-727-734-2027
trina@palmtoppublishing.com